Summer 2023 Internship – Venture Analyst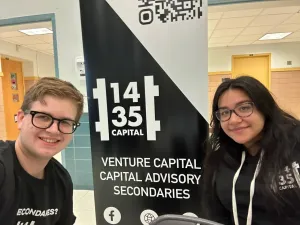 1435 Capital Management is happy to announce that we are seeking summer interns for 2023. We are looking for high school students that are either Rising Juniors or Rising Seniors looking to learn more about private equity and venture capital.
This is an open listing for individuals within their junior or senior year of high school interested in exploring more in-depth of areas related to business, finance, and entrepreneurship that would like to intern for a specialized venture capital firm located in the Northeastern part of the US. Position is for a hybrid internship, and the applicant must be able to commute to Princeton, NJ on a limited basis. We're looking for talented individuals that are hungry for knowledge and have the entrepreneurial spirit. For those interested in applying, please include your LinkedIn profile with your resume and a cover letter explaining why you're interested in working with us, and what drives you as an entrepreneur. We are not accepting applicants from overseas. You must be US-based and authorized to work in the US without sponsorship.
Over the course of the summer, Venture Analysts will research startups, aid in due diligence, test products, meet entrepreneurs, and network with investors and entrepreneurs.
To apply, go to: https://benjenholdings.com/careers/high-school-internship-venture-analyst-2022-23/
Note: This internship is only for high school students. Do not apply if you are in college, post-college, or not otherwise in high school.